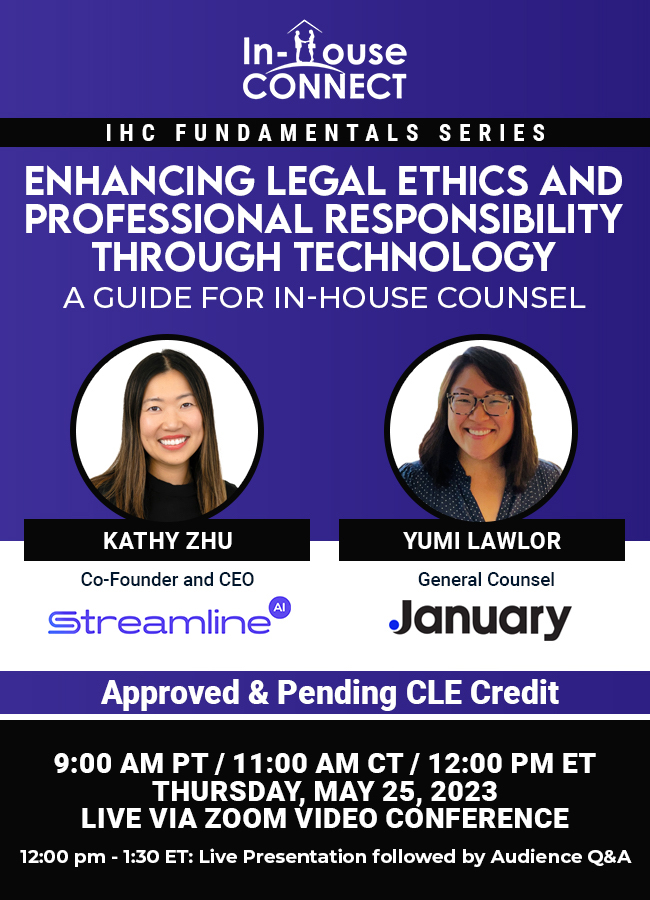 Speaker Bio

Sponsored by:

CLE Details
Kathy Zhu
Co-founder and CEO of Streamline AI, a Legal Process Management platform purpose-built for in-house legal teams to handle intelligent intake, workflow automation, collaboration, data/knowledge management, and reporting. Kathy was most recently Associate General Counsel at DoorDash, where she spent 4 years building a commercial legal and legal operations function from the ground up and supported the company's growth from 4 billion to over 70 billion in valuation. Kathy started her career as a corporate lawyer at Wilson Sonsini Goodrich & Rosati, advising 30+ startups through venture financings, M&A, and IPOs. Following that, she spent 4 years at Medallia, a customer experience management software platform, where she was promoted to Director, Commercial Legal. In her free time, Kathy is a dedicated meditator, goldendoodle mom, and SCUBA enthusiast.
Yumi Lawlor
General Counsel of January Technologies, Inc., a startup on a mission to make debt collection human. Prior to joining January, Yumi also served as in-house counsel at Etsy, Instacart, and Macy's. She earned her law degree from what is now University of California College of the Law, San Francisco (fka UC Hastings) and her undergraduate degree from New York University.
This program is approved for CLE credit in the following states: NY, PA, CA, IL, TX
This program is pending CLE credit in the following states:  TN, OH, MN, NC, WA, GA, IN, KY, MO, CO, VA.
This program is pending CLE credit for self-application by the attorney or for reciprocal CLE credit in the following states: AZ, CT, FL, ME, MT, NJ, & ND.
Enhancing Legal Ethics and Professional Responsibility through Technology: A Guide for In-House Counsel
As the practice of law continues to evolve, technology is increasingly becoming a critical tool for legal professionals. With the rise of digital communication and data analytics, in-house counsel are now faced with new ethical and professional responsibility challenges that must be navigated effectively.
Join us on Thursday, May 25 at 9am PT / 12 pm ET for the next edition of our IHC Fundamentals Series, as Kathy Zhu, Co-Founder and CEO of Streamline AI, and Yumi Lawlor, General Counsel of January Technologies, will explore how in-house counsel can leverage legal technology to enhance their ethical and professional responsibility obligations, while delivering value to their organizations.
Discussion topics include technologies that can help in-house counsel comply with ethical obligations, including:
Calendaring tools,
Communication tools,
Billing tools, and
Interoperable and workflow systems,
As well as a discussion on the legal and ethical implications of using Generative AI!
Who Should Attend
This webinar is an excellent fit for in-house counsel and legal professionals interested in staying current with the latest trends in legal technology, and who are eager to enhance their understanding of how technology can support ethical compliance and improve efficiency. By attending this webinar, participants will gain valuable insights into the opportunities and challenges that technology presents in the legal field and learn practical strategies for leveraging technology to benefit their legal careers while maintaining ethical standards.
There is NO COST to attend this LIVE program!
This program is FREE thanks to our gracious sponsor, Streamline AI – Streamline legal processes from intake to reporting! If you can't make it to the live program, the recording will only be available for viewing via our paid CLE library, In-House Connect On-Demand!