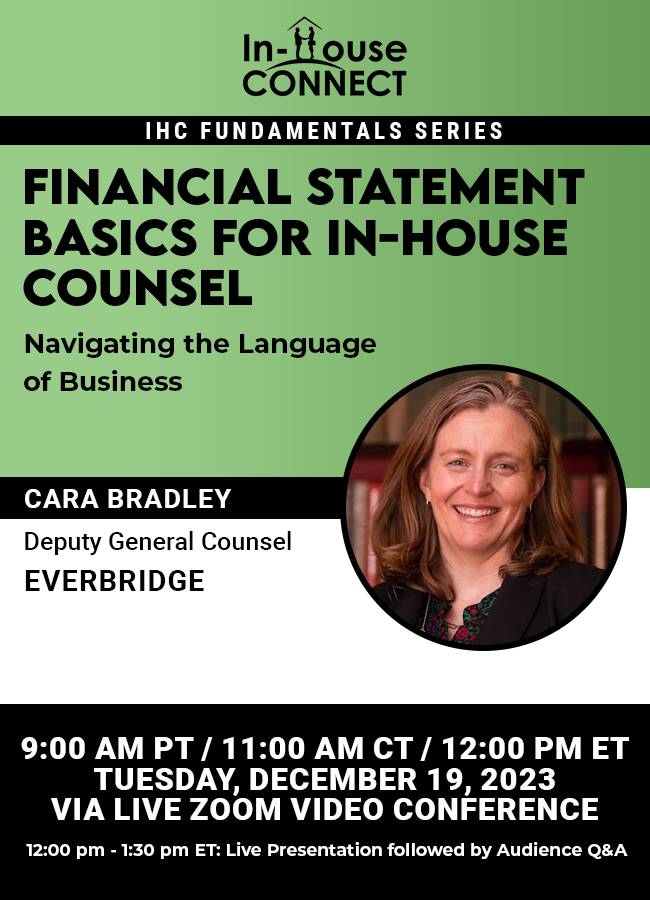 Speaker Bio

Sponsored by:

CLE Details
Cara Bradley
Vice President & Deputy General Counsel, Everbridge
Cara Bradley is the Deputy General Counsel of Everbridge, Inc., a global software company that empowers enterprises and government organizations to anticipate, mitigate, respond to, and recover stronger from critical events. In today's unpredictable world, resilient organizations minimize impact to people and operations, absorb stress, and return to productivity faster when deploying critical event management (CEM) technology. Everbridge digitizes organizational resilience by combining intelligent automation with the industry's most comprehensive risk data to Keep People Safe and Organizations Running™
Cara manages a legal team that handles commercial contract negotiations, public company compliance, human resources, mergers and acquisitions, global compliance, and business strategy for Everbridge.
THIS PROGRAM IS NOT ELIGIBLE FOR CLE CREDIT.
Financial Statement Basics for In-House Counsel: Navigating the Language of Business
Accounting is the language of business. Understanding how to read and understand financial statements is an essential skill for in house counsel.
Join us at 12pm ET / 9am PT on Tuesday, December 19 as Cara Bradley, Deputy General Counsel of Everbridge, will take you through key principles of corporate accounting with an emphasis on introductory topics.
Cara will also discuss ways that in-house counsel can influence how your company reports results and will empower you to become a better business partner.
Discussion topics include:
Overviews of the balance sheet, income statement, and cash flow statement
Who determines accounting standards?
What to look for in Management Discussion & Analysis (MD&A) or footnotes.
Revenue recognition and how it can affect contract drafting
Contingency accounting and how to handle disclosure of ongoing litigation
Who Should Attend
This program is for all levels of in-house counsel who want to better understand company accounting and financial information.
There is NO COST to attend this LIVE program!