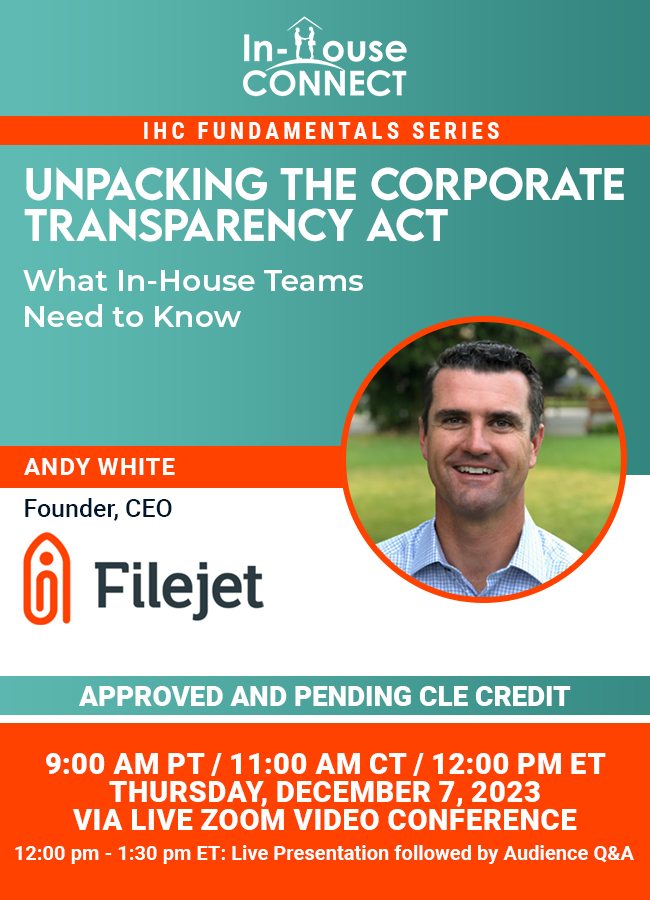 Speaker Bio

Sponsored by:

CLE Details
Andy White
In 2015 Filejet Founder and CEO Andy White purchased a 35-year-old back-office document filing company that served Law Firms, Accounting Firms and In-House Legal Department. He quickly realized a disruptive entity management technology was needed to absolve for existing manual and 'death by spreadsheet' processes. Filejet was created to provide In-House Legal Teams with the Organization, Transparency, and Automation that was missing. This has driven the explosive growth of Filejet which has transformed entity management into a holistic lifecycle solution to give general counsel and in-House Legal Teams everywhere one less thing to keep them up at night. White is a strategic problem solver. As an investor and an advisor to technology start-ups, real estate companies, banks, and clients that included New York Life, Deutsche Bank, Oculus/Facebook and Kobe Bryant, White is proficient streamlining and simplifying manual processes with a 'how it should be' approach. A lifelong Southern Californian, White earned his bachelor's degree from the University of San Diego's Knauss School of Business and lives in Newport Beach with his wife and two teen-aged daughters.
This program is approved for CLE credit in the following states: NY, TX, PA, CA, IL, AR, NV.
This program is pending CLE credit in the following states: TN, OH, MN, NC, WA, GA, IN, KY, MO, CO.
This program is pending CLE credit for self-application by the attorney or for reciprocal CLE credit in the following states: AZ, CT, FL, ME, MT, NJ, & ND.
This program is appropriate for newly admitted attorneys and experienced attorneys.
Unpacking the Corporate Transparency Act: What In-House Teams Need to Know
Get ready for the impending changes! The Corporate Transparency Act (CTA) becomes effective on January 1, 2024. Small and mid-sized businesses must prepare for CTA compliance, with an estimated 32.6 million reporting companies affected.
This legislation aims to enhance transparency by requiring beneficial owners of reporting companies to submit identifying information to FinCEN. Small and mid-sized businesses must prepare for the potential impact.
Join us on Thursday, December 7th at 9am PST / 12pm ET for the next edition of our IHC Fundamentals Series, as Andy White, CEO of Filejet, will explain what in-house teams need to know about the Corporate Transparency Act.
Discussion topics include:
Does your organization qualify as a "reporting company"?
Who qualifies as beneficial owners?
What are the CTA submission requirements?
What are the penalties for non-compliance?
All registrants will receive two tools to assist in their CTA preparation: 1) A template for organizing your entities and 2) a tool to easily determine if you need to report.
Who Should Attend
This program is designed for in-house teams who manage entity management, corporate compliance or general corporate matters for their organizations.
There is NO COST to attend this LIVE program!
This program is FREE thanks to Filejet – Automate Entity Compliance. If you can't make it to the live program, the recording will be available for viewing via our paid CLE library, In-House Connect On-Demand!