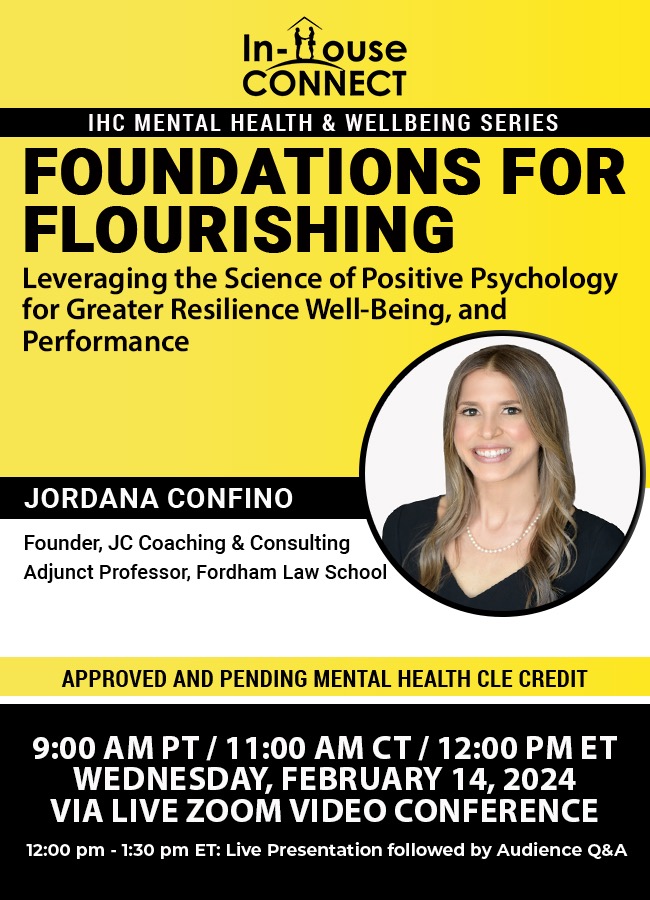 Speaker Bio

Sponsored by:

CLE Details
Jordana Confino
Founder, JC Coaching & Consulting
Adjunct Professor, Fordham Law School
Jordana is a certified professional coach, attorney, Positive Lawyering professor, and founder of JC Coaching & Consulting, a company devoted to advancing the well-being of the legal profession through coaching and partnering with organizations to build positive workplace cultures where all members feel valued, stimulated, and supported. Having spent the bulk of her career working as a lawyer and in legal education at elite institutions, Jordana knows that many high-achieving, successful people hold limiting beliefs that prevent them from truly flourishing. Until fairly recently, she was one of them. But Jordana transformed her life leveraging the science of positive psychology and human motivation theory, and she is passionate about helping others do the same.
Jordana is an Adjunct Professor at Fordham Law School, where she previously served as the Assistant Dean of Professionalism. In addition to overseeing the law school's wellness curriculum, Jordana teaches a one-of-a-kind course on Positive Lawyering, which empowers law students to use science-backed strategies of positive psychology to achieve greater satisfaction and sustainable success in their lives and work. She was voted Adjunct Law Professor of the Year in 2021.
Jordana holds a J.D. from Yale Law School, a B.A. in Psychology from Yale University, and Certifications in Coaching and Applied Positive Psychology.
In her blog, Chronicles of a Recovering Type A+ Perfectionist, Jordana shares stories and offers science-backed tips and strategies for reining in fear and cultivating joy, love, and values-based living in our crazy cut-throat world.
Website: https://www.jordanaconfino.com
This program is approved for CLE credit in the following states: NY, PA, CA, IL, TX, AR, NV.
This program is pending CLE credit in the following states:  TN, OH, MN, NC, WA, GA, IN, KY, MO, CO.
This program is pending CLE credit for self-application by the attorney or for reciprocal CLE credit in the following states: AZ, CT, FL, ME, MT, NJ, & ND.
Foundations for Flourishing: Leveraging the Science of Positive Psychology for Greater Resilience, Well-Being, and Performance
Lawyers tend to be strivers by both nature and nurture. We set lofty goals and work fastidiously to meet them, certain that achieving "success" will bring us satisfaction. But science shows that this logic is backward. Although we THINK success will lead to happiness, the reality is that well-being actually fuels success. And the key building blocks for well-being are not necessarily what you might think.
Join us Wednesday, February 14, 2024 at 12pm ET / 9am PST, for the next edition of our IHC Mental Health and Well-being series as certified professional coach, and Positive Lawyering professor, Jordana Confino, will discuss:
how to apply evidence-backed insights from positive psychology (the science of human flourishing) and techniques from executive coaching to enhance your personal and professional satisfaction
the foundational elements of well-being and learn strategies for optimizing your experience of them, and provide
a toolkit of exercises and an action plan for pursuing your own authentic vision of success
This program is approved and pending Mental Health CLE Credit!
Who should attend
In-House counsel (at all levels) who want to leverage the power and science of positive psychology for greater career success and mental well-being!
There is NO COST to attend this program!
This LIVE program is FREE thanks to our gracious sponsor, In-House Connect On-Demand! If you can't make it to the live program, the recording will only be available for viewing via our paid CLE library, In-House Connect On-Demand!