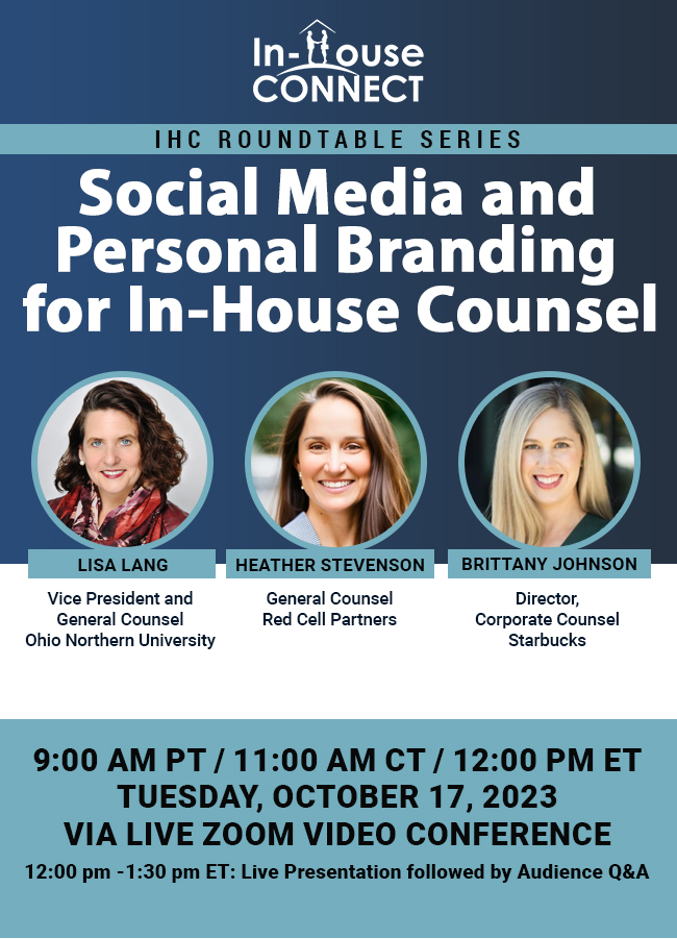 Speaker Bio

Sponsored by:

CLE Details
Lisa Lang
Lisa serves as Vice President and General Counsel for Ohio Northern University (ONU). Prior to coming to ONU, Lisa first worked in private practice specializing in insurance defense for a law firm in Louisville, Kentucky. In 2008, Lisa transitioned into the public sector to work for the Commonwealth of Kentucky in the Office of the Attorney General as an Assistant Attorney General and then for the Kentucky Department of Education serving in various in-house roles beginning in 2011 until 2017 when she was hired as to serve as the General Counsel for Kentucky State University (KSU). Lisa served as KSU's General Counsel until accepting her current role at ONU in November 2022.
Heather Stevenson
Heather is General Counsel at Red Cell Partners, LLC ("Red Cell") a venture and incubation firm with focuses in the healthcare and national security industries.  Heather oversees all legal matters for the firm and its incubations.  Known for her approachable style and entrepreneurial mindset, Heather recognizes the importance of trust, creativity, and decisiveness in addressing the most complex business and legal challenges.
Prior to joining Red Cell, Heather served as Vice President and Deputy General Counsel at Boston Globe Media Partners, LLC, the publisher of The Boston Globe, Boston.com, and STAT. A strategic partner to the newsroom and C-suite, Heather advised senior business leaders on intellectual property and commercial law matters that arose in the rapidly evolving media industry.
Prior to joining BGMP in 2018, Heather founded Thirst Juice Co., a plant-based juice and smoothie business. Tapping into her deeply rooted interests in wellness, community, and entrepreneurship, Heather successfully opened multiple Boston-area shops, where she managed over 30 employees and served hundreds of thousands of drinks. Heather began her legal career as a litigation associate in Sullivan & Cromwell's New York offices, representing global financial institutions in complex litigation matters.
Heather earned her J.D. from Columbia Law School and holds an LL.M. from the University of Amsterdam. Before law school, Heather joined Teach for America, teaching 6th grade at a public middle school in the Bronx. She received her bachelor's degree in urban studies from Columbia University and a master's degree in childhood education from Bank Street College of Education.
Heather serves on the Board of the Legal Mentor Network and previously served on the Board of the Boston Globe Foundation.  She regularly mentors junior attorneys on navigating non-traditional and in-house legal careers. She is a marathon runner, dedicated vegetarian, and a mom to a spirited five-year-old son.
Brittany Johnson
Brittany is director, corporate counsel, at Starbucks Corporation. She and her team lead legal support for the company's domestic and international expansion through brand licensing. Johnson is a mother, a mentor, and a coffee lover with an early morning writing habit.
THIS PROGRAM IS NOT ELIGIBLE FOR CLE CREDIT.
IHC Roundtable Series: Social Media and Personal Branding for In-House Counsel
Everyone knows that establishing an online brand is a necessity in today's day and age. But for in-house counsel, posting content and being vulnerable on LinkedIn is uniquely difficult. Common questions arise: What do I talk about? Why would anyone care to read my posts? Wouldn't my employer get annoyed seeing me engaging on LinkedIn all day? And what's the benefit of doing so?
Lisa Lang, Brittany Johnson, and Heather Stevenson are in-house counsel and have all successfully built successful online brands. Join us at 12pm ET / 9am PT on Tuesday, October 17, 2023 for the inaugural edition of our IHC Roundtable Series as Lisa, Brittany and Heather will discuss their journey in building online brands.
Moderated by IHC's CEO, Shai Mehani, Lisa, Brittany, and Heather will answer the following questions:
– What prompted you to embark on this world of personal branding? What was your first post?
– Did you ever want to give up and if not, how did you stick with it?
– Did your employer care? Do they say anything and how do you deal with it?
– What are your goals and why do you continue to post?
– Has your social media influence brought you benefits? If so, what?
– Practical advice for those who want to get started?
– Audience Q&A
THIS PROGRAM IS NOT ELIGIBLE FOR CLE CREDIT.
Who Should Attend
This program is designed for in-house counsel interested in building a personal brand on social media.
There is NO COST to attend this LIVE program!
This program is FREE thanks to our gracious sponsor, In-House Connect On-Demand!