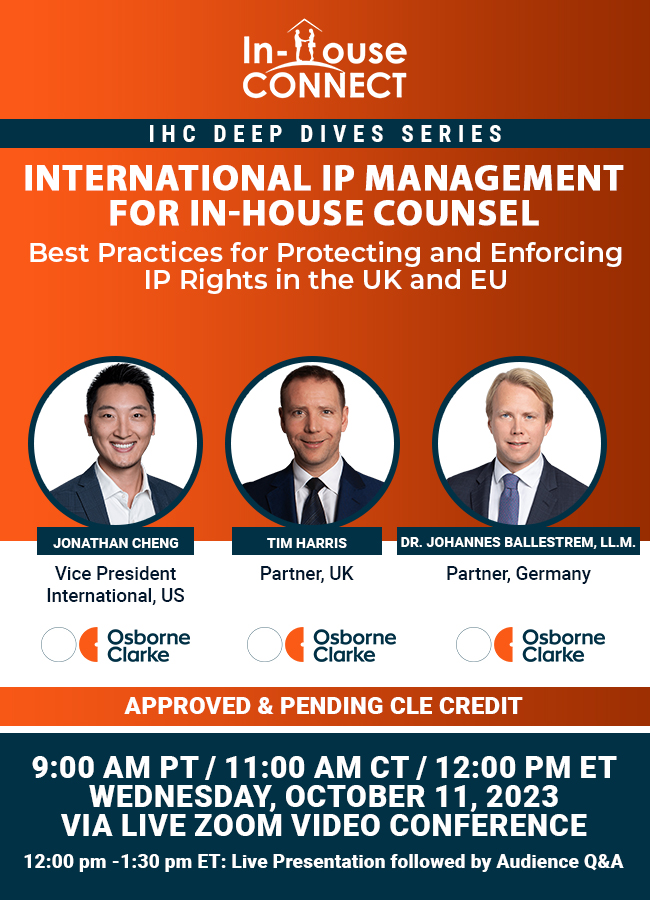 Speaker Bio

Sponsored by:

CLE Details
Jonathan Cheng
Jonathan is Vice President, International focused on the Healthcare & Life Sciences sectors in the US. Jonathan helps clients deliver their international expansion ambitions as well as overcome the complexities of managing international business by connecting them to Osborne Clarke's full set of capabilities.
Jonathan joined Osborne Clarke in the summer of 2021, bringing more than ten years of experience within the life sciences and healthcare industry. He has worked closely with clients, from innovative start-ups to well established Fortune 500 companies, to develop their transatlantic operations.
Leveraging a deep sector knowledge and a background in supporting market access, Jonathan continues to assist companies with their international expansion plans. Jonathan graduated with a Bachelor of Science in Biology from the University of California, Davis.
Tim Harris
It's little surprise that Tim is ranked in the Legal 500 as a 'next generation' pharma and biotech lawyer. With a long-held interest in the field, allied to scientific training, he is a firm believer in the transformative power of life sciences and the remarkable impact they can have on people's lives.
Today, his principal focus is on patents and related rights, providing strategic advice and litigation expertise in the English Courts to innovator biotech and pharma companies. In helping his clients enforce, defend and understand their IP rights and minimise their risks, Tim has advised on numerous blockbuster pharmaceutical and biotech treatments, including various monoclonal antibody therapies.
The approach he takes to this work is always collaborative – he often works as part of a multi-jurisdictional team and relishes the challenge of forming and deploying creative legal and commercial strategies.
Tim is equally active in supporting the next generation of leaders in life sciences and healthcare. He enjoys regular lecturing and teaching, and working with entrepreneurs, start-ups and spin-outs, helping them understand how to use IP to protect their innovations.
Highly regarded in the wider industry, Tim is a member of the European Patent Lawyers Association (EPLAW) and Co-chair of the Biotech litigation subcommittee of the American Intellectual Property Lawyers Association (AIPLA), and teaches on Oxford University's Postgraduate Intellectual Property Diploma.
Dr Johannes Graf Ballestrem
Dr Johannes Graf Ballestrem is a patent litigator with a strong focus on technology involving mechanics, electronics, information technology and 'access to data' claims. He has outstanding experience in litigation concerning printer consumables, automotive supplies, remanufacturing and software implemented inventions.
Johannes has specialised in patent law for over 15 years. After working in the patent litigation department of a leading international law firm in Dusseldorf, he joined Osborne Clarke and became partner in 2019. During his career, he has taken part in a wide range of patent litigation cases in the field of telecommunications, mechanics and software. Johannes also regularly advises in M&A transactions, licensing and product liability. He has particularly deep experience in the automotive and energy sector.
Johannes represents clients before the civil courts as well as in arbitration and participates in parallel validity proceedings before the European Patent Office, the Federal Patent Court and the Federal Supreme Court.
You can find the answers to the most frequently asked questions on the subject of Patent Litigation in Germany here and about the Unitary Patent and the Unified Patent Court here.
Johannes studied and trained in Bonn, Hamburg, Lausanne, London and Paris. He passed the international program of Sciences Po Paris and holds an LL.M. in intellectual property law from the University of Dusseldorf. As a member of the German Association for the Protection of Intellectual Property, the Association of Intellectual Property Experts and the Licensing Executives Society, he publishes frequently on patent and procedural law. In particular, he is author of the books The assignment of patent and utility model rights by way of security and co-author of Artificial Intelligence (AI) on the legal implications of AI and machine learning.
This program is approved for CLE credit in the following states: NY, PA, CA, IL, AR, NV.
This program is pending CLE credit in the following states:  TN, TX, OH, MN, NC, WA, GA, IN, KY, MO, CO.
This program is pending CLE credit for self-application by the attorney or for reciprocal CLE credit in the following states: AZ, CT, FL, ME, MT, NJ, & ND.
This program is appropriate for newly admitted attorneys and experienced attorneys.
International Patent Law for In-House Counsel: How In-House Counsel Need to Navigate the New Unitary Patent & Unified Patent Court
On June 1, 2023 after decades of planning and many false starts, the Unified Patents Court (UPC) and Unitary Patent (UP) finally came into force. This has been the biggest change to patent practice and litigation in Europe in a generation. However what began as a project to simplify and streamline European patents has added a layer of complexity on to the existing system.
Join us at 12pm ET / 9am PT on Wednesday, October 11, 2023 for the next edition of our IHC Deep Dives Series, as Jonathan Cheng, Tim Harris, and Dr. Johannes Graf Ballestrem of Osborne Clarke will provide an overview of the UPC and UP and discuss the first 4 months of the UPC and what it means for your organization.
Discussion topics include:
An overview/ reminder of the UPC and UP system
How to take advantage of the UPC
What steps you need to take to minimize the risks of the UPC to your business
4 months in: what have we learned so far?
Who Should Attend
This program is designed for in-house counsel who manage international IP programs for their organizations.
There is NO COST to attend this LIVE program!
This program is FREE thanks to our gracious sponsor, Osborne Clarke! If you can't make it to the live program, the recording will be available for viewing via our paid CLE library, In-House Connect On-Demand!