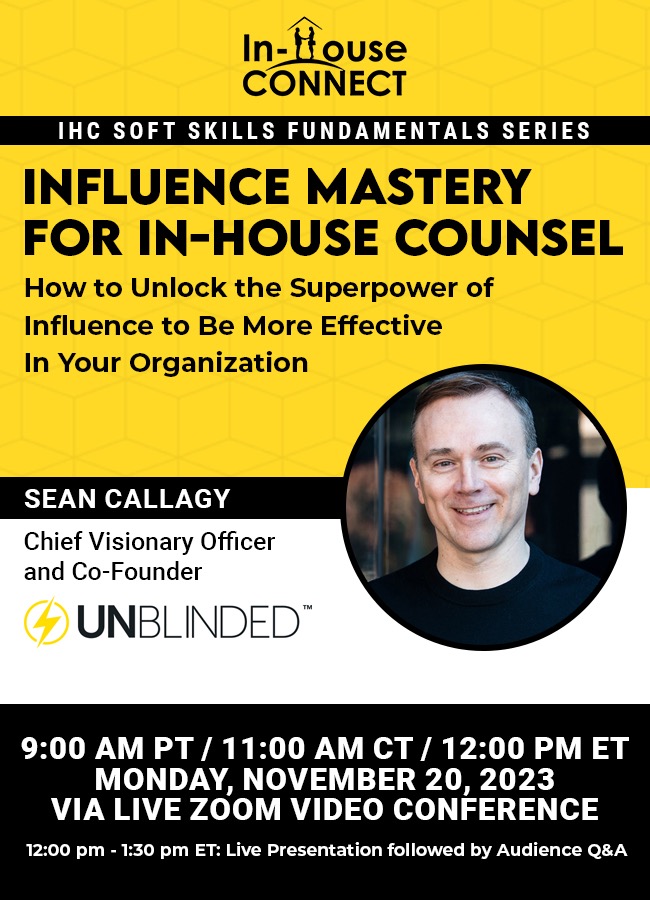 Speaker Bio

Sponsored by:

CLE Details
Sean Callagy
Sean is an entrepreneur, international speaker, philanthropist, one of America's top trial attorneys, online personality, and creator of various peak performance technologies.
Oh, and he's a legally blind warrior and adventurer.
For 25 years, aided by his unique insights, love for people, ability to "see" and create transformational breakthroughs, Sean has achieved and co-created an incredibly diverse variety of unique successes. Sean has been favorably compared to some of the top speakers and influencers in the world.
As a byproduct of his technologies, Mr. Callagy is one of only two attorneys out of 1,220,000 attorneys in America to achieve 2 Top 100 National Jury Verdicts between 2014 and 2016, and the only one who was legally blind. He has also collected more than half a billion dollars on behalf of his healthcare clients, built and sold a 40 person law firm in a little over a year in his twenties when he was only two years out of law school (all which is very rare in the legal world), created the most rapidly successful training, coaching and development program from his coaching school out of anyone who had ever attended the coaching school and certification program at that time, publicly spoke more than 4,000 times to audiences that are consistently shocked to "see what they didn't see" in their lives, careers, and businesses.
Mr. Callagy is the Founder and President of Callagy Law, a more than 100+ team with offices in 5 states, Founder of his own charitable foundation, the Callagy Christian Foundation, which he funded up front with a personal donation of over 7 figures, Founder of the investment company Callagy Enterprises, and Callagy Training and Development, which empowers and co-creates results that fulfill dreams through his unparalleled human breakthrough technologies.
Mr. Callagy is the creator of the Callagy Results Formula, also known as the Unblinded Formula, and hundreds of hours of content on integrity based human influence, which empowers and co-creates results that fulfill dreams through his unparalleled human breakthrough technologies in sales, business and life in going from "Hello" to "Yes" and what to do with that access for success. He is the Founder and Chief Visionary Officer of Unblinded Mastery. The first 1,600 person Unblinded event was filled in under 3 months and went from a startup in 3 months to $250k+ in sales per month, including Jack Canfield being a paid member of the program and promotional partner. (Jack Canfield is co-author of the Chicken Soup for the Soul series, which has more than 250 titles and 500 million copies in print in over 40 languages)
As a speaker, Sean has broken sales records on the largest personal development stages in the world, speaks for T-Mobile, Disney Executives, Bristol Myers Squibb, National News Networks, Legal Associations, and raised 7.4 million dollars for charity on stage during his last four speaking engagements. As an influencer for good in this world, Sean has a standing bet of $250k, for charity, that he cannot be out influenced on a neutral set of facts.
Mr. Callagy's causes include creating unity through truth with empathy, dramatically reducing the virtually unchanged 75% unemployment rate for the blind and leading a "Mastery Movement" that challenges you to "see what you don't see". Perhaps most notably and at the core of his highest level of gratitude, is Mr. Callagy's commitment to his family and life balance. While creating his professional successes, Mr. Callagy regularly hosts and leads holidays and unique experiences for his extended family, and he coached and attended virtually all of his three children's more than 1,000 sporting events and activities over the past 15 years. Creating the life YOU want, with the awareness that contribution and growth truly energize and empower the heart and soul, is at the root of Sean's mission.
Mr. Callagy is now on a mission to influence influencers to merge ecosystems so one plus one equals a trillion relationships that make the world an even greater place.
THIS PROGRAM IS NOT ELIGIBLE FOR CLE CREDIT.
Influence Mastery for In-House Counsel: How to Unlock the Superpower of Influence to Be More Effective in Your Organization
Are you ready to transform your ability to lead, manage, and create massive impact? Discover how to take people from "HELLO" to "YES" with ease, less frustration, and in record time.
Join us at 12pm ET / 9am PT on Monday, November 20 for a transformative experience where the cutting-edge human technology of Unblinded explores the art and science of "Integrous Influence Mastery" – a superpower that significantly enhances your effectiveness in every interaction.
In this webinar, you will unlock the potential to achieve profoundly more optimal results across various aspects of your professional life, from one-on-one influence over internal and external decision-makers, leadership, and management to group influence and public speaking.
Key Learning Points
Heart and Math Synthesis: Learn to combine emotional intelligence with systematic processes to create compelling outcomes in leadership and influence.
Integrous Influence Mastery: From first impressions to final agreements, learn the pathway to genuine influence without resistance.
Efficient Action Strategies: Get into your 'Zone Action,' the most efficient and effective step you can take at any given moment to drive forward momentum.
Public Speaking and Group Influence: Elevate your public speaking skills to influence groups and lead with authority.
Who Should Attend
This program is a game-changer for In-House Attorneys and General Counsel at all levels who aspire to be more influential and effective in their roles. If you are in leadership, management, recruitment, compliance, or simply eager to make a positive impact with the teams you support, like Marketing and Sales, this is for you.
Exclusive Opportunity
Attendees will have a chance to request a no-cost acceleration session and dive deeper into the Unblinded ecosystem.
There is NO COST to attend this LIVE program
Join us for this LIVE program at no charge, generously sponsored by Unblinded. If you cannot attend the live session, stay tuned for more information on accessing the recording.