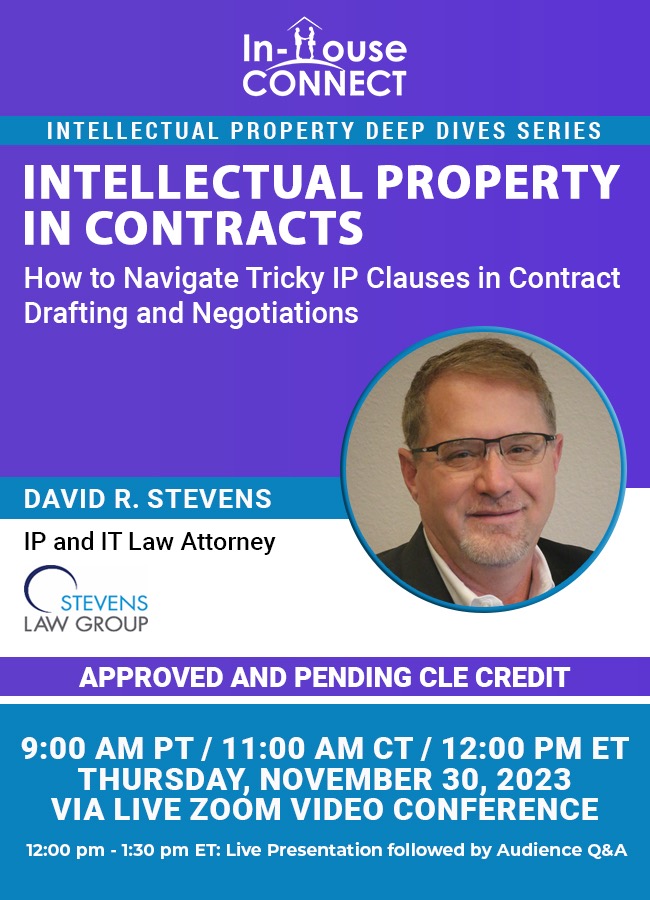 Speaker Bio

Sponsored by:

CLE Details
David R. Stevens
David R. Stevens IP practice includes patent prosecution, transactions, due diligence work, agreements, opinions (including validity, infringement, patentability, right-to-practice (RTP), and freedom-to-operate (FTO) opinions), counseling, offensive and defensive patent issues, licensing, and litigation. He also serves as an expert witness in technical and intellectual property legal issues and has been called as a fact witness in enforcement actions involving the many patents he has written. He also is an expert in copyright (including software, publications, products and artworks, and other copyrightable forms) and open-source issues. He works with foreign IP firms and foreign clients with respect to domestic and international patent prosecution, including Patent Cooperation Treaty (PCT) work.
This program is approved for CLE credit in the following states: NY, TX, PA, CA, IL, AR, NV.
This program is pending CLE credit in the following states: TN, OH, MN, NC, WA, GA, IN, KY, MO, CO.
This program is pending CLE credit for self-application by the attorney or for reciprocal CLE credit in the following states: AZ, CT, FL, ME, MT, NJ, & ND.
This program is appropriate for newly admitted attorneys and experienced attorneys.
Intellectual Property Issues in Contracts: How to Navigate Tricky IP Clauses in Contract Drafting and Negotiations
Contract negotiations that involve intellectual property (IP) terms can threaten new risks to a company's IP assets. Drafting and negotiating these terms require a well-informed and highly skilled eye beyond typical contract terms.
Join us at 12pm ET / 9 am PT on Thursday, November 30, as Dave Stevens, IP and IT Lawyer of the Stevens Law Group, will provide an overview and analysis of common IP issues in Contracts.
Whether it is a simple Nondisclosure Agreement (NDA) or and extensive Joint Development Agreement (JDA), most every section of a contract has potential risks of IP loss.
Discussion Topics include:
Common contract IP issues
Key IP Terms
IP Enforcement and dispute resolution
Tips for effective IP negotiations
NDAs, Joint Development Agreements, and more
Who Should Attend
This program is designed for general practitioners/corporate generalists, intellectual property attorneys, legal operations professionals, and in-house counsel who negotiate IP clauses or IP related contracts.
There is NO COST to attend this LIVE program!
This program is FREE thanks to our gracious sponsor, Stevens Law Group!  If you can't make it to the live program, the recording will be available for viewing via our paid CLE library, In-House Connect On-Demand!