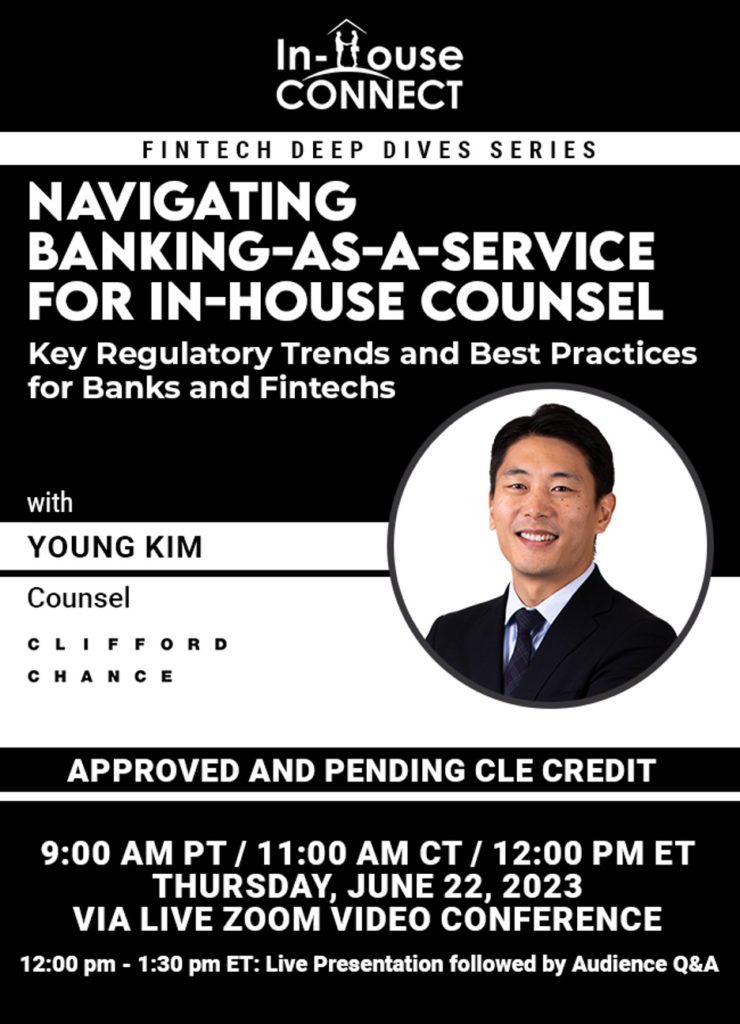 Speaker Bio

Sponsored by:

CLE Details
Young Kim has extensive experience advising financial institutions on corporate matters and banking regulation, with a particular focus on fintech offerings, deposits, payment services and digital assets, including tokenized instruments and digital currencies. His practical experience includes advising on retail, private wealth and commercial bank offerings and extends to ensuring compliance with US banking laws, including from the Federal Reserve Board, Federal Deposit Insurance Corporation, Consumer Financial Protection Bureau, and New York State Department of Financial Services.
This program is approved for CLE credit in the following states: NY, PA, CA, IL, TX
This program is pending CLE credit in the following states:  TN, OH, MN, NC, WA, GA, IN, KY, MO, CO, SC. This program is pending CLE credit for self-application by the attorney or for reciprocal CLE credit in the following states: AZ, CT, FL, ME, MT, NJ, & ND.
This program is appropriate for newly admitted attorneys and experienced attorneys.
Navigating Banking-as-a-Service for In-House Counsel: Key Regulatory Trends and Best Practices for Banks and FinTechs
The recent enforcement actions against Blue Ridge Bank and Cross River Bank represent the culmination of a long-brewing shift in supervisory attention towards bank-fintech partnerships.
Join us on June 22, 2023 at 12pm ET/9am PT for the next edition of our Fintech Deep Dives Series, as Clifford Chance's Young Kim will discuss:
High-level regulatory trends for banking-as-a-service (BaaS) and embedded finance offerings,
Heightened compliance expectations of sponsor banks when onboarding fintech partners, and
Practical tips for FinTech's as they navigate an ever-changing regulatory landscape.
Who Should Attend
This program is designed for both experienced and new in-house counsel and/or compliance officers, particularly those working in Banks and FinTech companies. This webinar is also a great opportunity for in-house counsel who are generally interested in fintech, business law, or finance, and who wish to deepen their understanding of these key regulatory trends and best practices.
There is NO COST to attend this LIVE program!
This LIVE program is FREE thanks to our gracious sponsor, Clifford Chance! If you can't make it to the live program, the recording will only be available for viewing via our paid CLE library, In-House Connect On-Demand!