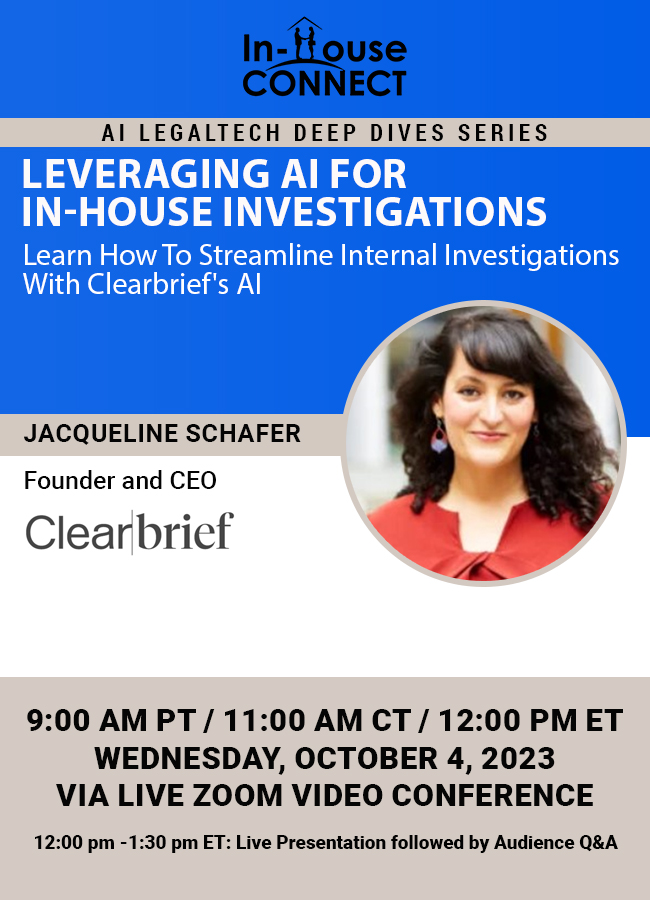 Speaker Bio

Sponsored by:

CLE Details
Jacqueline Schafer
Jacqueline Schafer is the founder and CEO of Clearbrief, which won Litigation Technology Product of the Year at Legalweek 2023. Schafer was named to the American Bar Association's "2022 Women of Legal Tech" list, the 2022 Fastcase 50, Honoring 'Innovators, Techies, Visionaries and Leaders' in Law, and also received the 2021 Washington State Bar APEX Award for Legal Innovation for founding Clearbrief as well as for her 2020 law review article ("Harnessing AI for Struggling Families").
Jacqueline began her career as a litigation associate at the New York law firm of Paul, Weiss, and spent the majority of her career as an Assistant Attorney General in the Washington and Alaska Attorney General's Offices, where she specialized in appellate practice and complex litigation. Before founding Clearbrief in 2020, she also served as in-house counsel for the national nonprofit Casey Family Programs. She received her B.A. in English and French from the University of Pennsylvania (where she sang with John Legend's former a cappella group!), and her J.D. from Boston University School of Law.
THIS PROGRAM IS NOT ELIGIBLE FOR CLE CREDIT.
Leveraging AI for In-House Investigations: Learn How to Streamline Internal Investigations with Clearbrief AI
In house counsel face increasing pressure to handle initial employment and business investigations before involving expensive outside counsel. When HR comes to you with a mess of emails, Slack messages, and a recommendation to terminate a pregnant employee who complained about harassment a week ago, how can you quickly get a handle on what actually happened in order to advise?  And how do you get buy-in for your recommendation?
Join us at 12pm ET / 9am PT on Wednesday, October 4, 2023 for the inaugural edition of our AI Legal Tech Deep Dives Series as Jacqueline Schafer, Clearbrief's Founder and CEO, will answer these questions and show us how to streamline in-house investigations using Clearbrief.
Jacqueline will show us how, with the power of Clearbrief's AI in Word, in-house counsel can:
Upload interview notes, emails, and discovery and click a button to generate an instant hyperlinked timeline with all dates extracted, a summary of the event, and a link to the evidentiary source for verification
Easily create a hyperlinked, secure, web-based version of your investigation memo or timeline from Word to share with internal stakeholders and co-counsel so they can visualize the evidence
Select any text in your Word doc and use the patented "Add Cite" button and Concept Search Bar to instantly view a list of suggested pages from uploaded evidence to support the ideas in your sentence, and insert a hyperlink to the source so others on the team can review it while they read your writing
Instantly view the source for any law or fact cited in a draft, with a score flagging any mistakes compared to what your (or your opponent's) writing actually says
Compare a sentence in a draft to documents in a "prior investigations" folder to see how the Company handled similar issues in the past
Generate a standalone PDF of exhibits with a few clicks based on your citations
THIS PROGRAM IS NOT ELIGIBLE FOR CLE CREDIT.
Who Should Attend
This program is designed for in-house counsel who handle internal investigations, litigation, or HR issues and/or are interested in learning more about LegalTech and AI solutions geared towards in-house counsel.
There is NO COST to attend this LIVE program!
This program is FREE thanks to our gracious sponsor, Clearbrief! Clearbrief is used by hundreds of firms across the country, as well as a growing number of in-house legal teams, to bring the evidence to light as you write in Word.