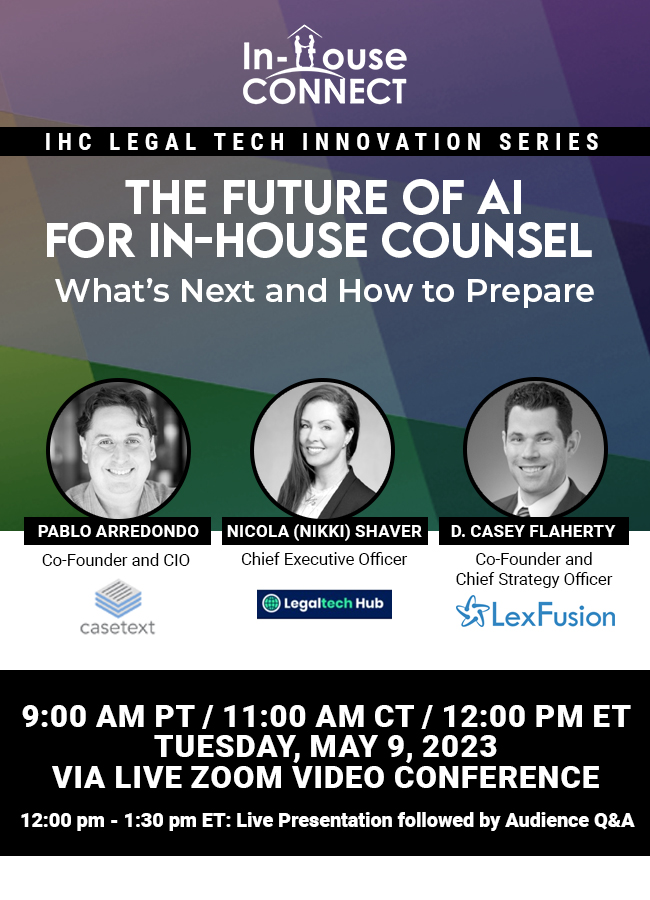 Speaker Bio

Sponsored by:

CLE Details
Pablo Arredondo
Pablo's innovations have been recognized by the World Economic Forum, the American Association of Law Libraries, and the American Bar Association.
Prior to co-founding Casetext, Pablo represented leading technology companies as a patent litigator at Kirkland & Ellis and Quinn Emanuel. He trained at Stanford Law School and is a fellow at the Stanford Center for Legal Informatics.
Nicola (Nikki) Shaver
Over the past 20 years, Nikki has practiced law at large firms and media companies in Australia, led knowledge and innovation teams at firms including Stikeman Elliott in Canada and Paul Hastings in the United States, and advised legaltech companies and corporate legal on legaltech procurement.
In early 2019, running yet another fruitless Google search for use case functionality, it occurred to Nikki that there must be a better way to track innovative solutions in the market. Recognition of this gap sparked the initial idea for Legaltech Hub.
Casey Flaherty
From setting up the legal operations function in a Fortune 5 company to building the world's largest legal project management team inside the world's largest law firm, Mr. Flaherty is at the forefront of the multi-disciplinary delivery of legal services to meet the needs of business at scale and pace. A legal tech founder himself, Mr. Flaherty is also keenly aware of the digital transformation imperative after a decade in the legal trenches (post graduation from the University of Southern California School of Law). Mr. Flaherty is a prolific speaker and author, including Unless You Ask, a guide to data-driven dialogue for law departments and law firms published by the Association of Corporate Counsel.
This program is NOT eligible for CLE credit.
The Future of AI for In-House Counsel: What's Next and How to Prepare
To meet popular demand, Casetext is back for a second webinar, but this time for a sneak peek of new AI technology designed specifically for in-house counsel, and also to discuss why this technology is so popular.
Join us on Tuesday, May 9, 2023 at 12 pm ET / 9 am PT for a special discussion of what AI is next for in-house counsel, with Pablo Arredondo (Co-Founder and CIO at Casetext), Nicola Shaver (CEO of Legaltech Hub), and D. Casey Flaherty (Co-Founder at LexFusion).
Discussion topics include:
The newest AI technology for in-house counsel
Why this technology is so popular
The short- and long-term impacts of this technology
Who Should Attend
This program is designed for in-house lawyers and legal professionals interested in cutting through AI hype and learning exactly how today's leading technology will make you much more efficient with common, daily tasks.
There is NO COST to attend this program
This program is FREE thanks to our gracious sponsor, Casetext, which recently launched CoCounsel, the first AI legal assistant!