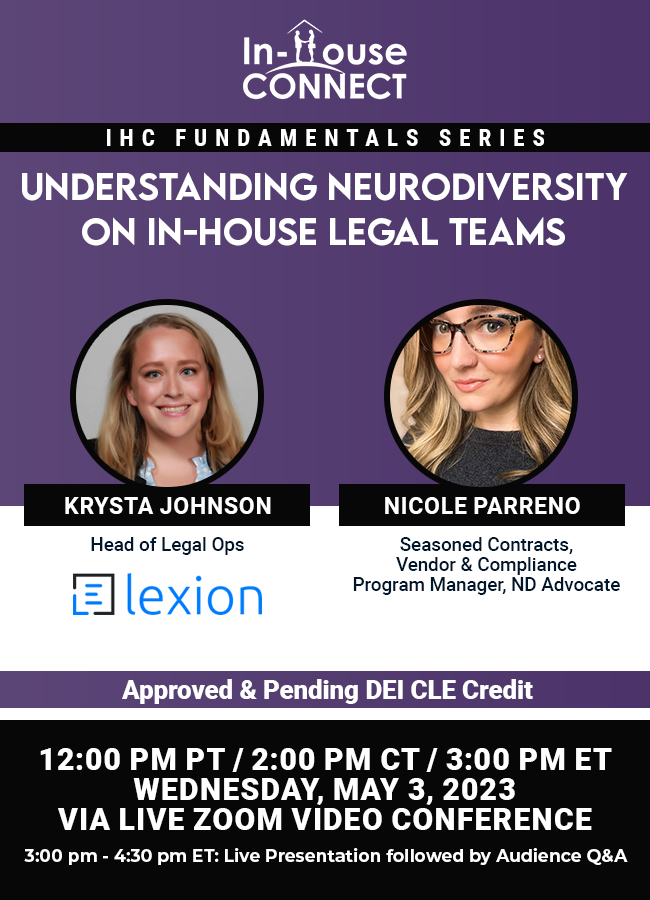 Speaker Bio

Sponsored by:

CLE Details
Krysta Johnson
has been a legal professional for 16 years, spending the last 10 years supporting in-house legal teams. From startups to big tech, Krysta prides herself on creating sensible, efficient, and scalable processes that leverage technology to make the legal team a strategic partner instead of a blocker. Prior to Lexion, Krysta worked at various Seattle tech companies, including Amazon Web Services, PayScale and Big Fish Games.
Nicole Parreno 
With over 15 years of experience, Nic Parreno is a seasoned contracts, compliance, priv and legal operations professional, skilled in managing complex vendor relationships, legal contracts, and data privacy and initiatives. Their niche expertise lies in developing and implementing comprehensive compliance programs, policies, and procedures. Having held prominent positions at BetterUp, Lucky Orange, DSI, and several other organizations, Nic has a proven track record in ensuring regulatory compliance, risk mitigation, and fostering strong relationships with stakeholders.
This program is approved for CLE credit in the following states: NY, PA, CA, IL, TX
This program is pending CLE credit in the following states:  TN, OH, MN, NC, WA, GA, IN, KY, MO, CO, VA.
This program is pending CLE credit for self-application by the attorney or for reciprocal CLE credit in the following states: AZ, CT, FL, ME, MT, NJ, & ND.
Understanding Neurodiversity on In-House Legal Teams
Workplace DEI efforts often fall short when it comes to neurodiversity. With 15-20% of the population exhibiting some form of neurodiversity, companies and legal teams often fail to support these team members and neurodiverse employees often remain underemployed and underutilized.
At a time when legal teams are being asked to do more with less, neurodiverse employees provide a unique perspective. It's likely that legal teams already have neurodiverse employees on their payroll—now is the time to leverage these leaders who think differently.
Join us on Wednesday, May 3 at 12pm PT / 3 pm ET for the next edition of our IHC Fundamentals Series, as Krysta Johnson, autistic Head of Legal operations at Lexion, and Nic Parreno, Legal Contracts Manager with ADD/ASD, describe their experiences in the workplace.
Key Takeaways:
What neurodiversity might look like at work
The benefits of neurodiverse employees in the legal field
How to foster and maintain an accessible environment for all
Who Should Attend
This webinar is ideal for legal professionals, HR managers, company leaders, and diversity and inclusion practitioners seeking to improve their understanding and support of neurodiverse employees within their teams.
It is also beneficial for neurodiverse individuals themselves, as well as their colleagues and allies, who want to learn more about the unique perspectives and strengths that neurodiverse employees bring to the legal field.
By attending this webinar, participants will gain valuable insights on fostering a more inclusive and accessible work environment for all.
There is NO COST to attend this program!
This program is FREE thanks to our gracious sponsor, Lexion – The Fastest Way To