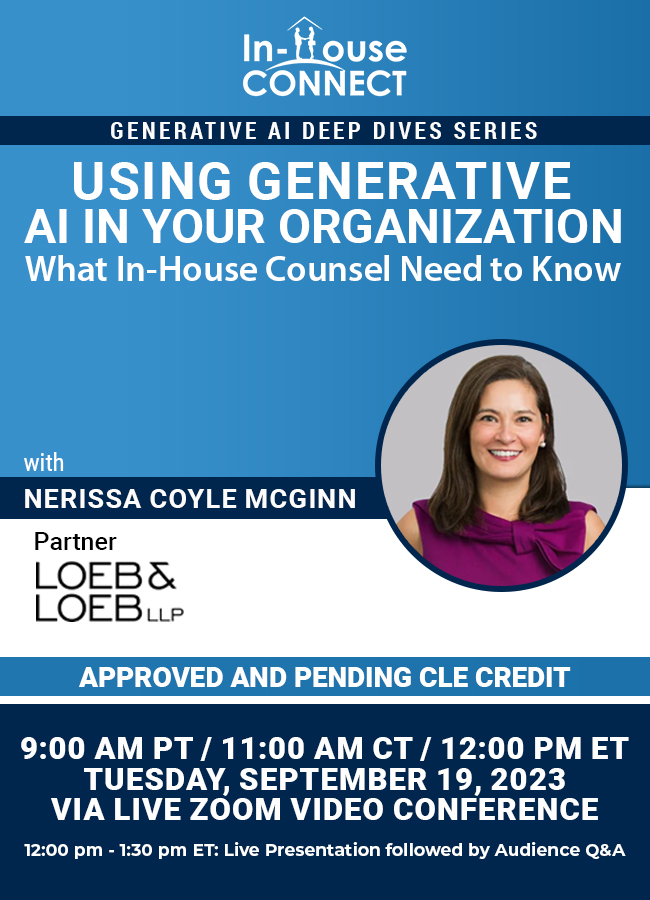 Speaker Bio

Sponsored by:

CLE Details
Nerissa Coyle McGinn
Nerissa's practice focuses on matters involving the convergence of advertising and promotions, emerging media, technology, privacy and intellectual property law. More recently, she has focused her practice on counseling clients on legal issues related to NFTs and in the metaverse, including issues on enforcing and exploiting their existing rights.
Nerissa also has particular experience advising on matters involving digital advertising and promotions including on social media platforms; loyalty programs; the Children's Online Privacy Protection Act (COPPA); and the Children's Advertising Review Unit (CARU). Nerissa has a diverse roster of clients ranging from some of the best-known brands to start-up digital companies and app developers. Embracing a business-minded approach, she helps all of her clients develop new brand assets and assists them in promoting and advertising their brands and products. As a thought leader in her industry, Nerissa frequently publishes and speaks at events and conferences. She also serves as the Co-Chair of INTA's Leadership Development Programming Sub-Committee.
This program is approved for CLE credit in the following states: NY, PA, CA, IL, AR, NV.
This program is pending CLE credit in the following states:  TN, TX, OH, MN, NC, WA, GA, IN, KY, MO, CO.
This program is pending CLE credit for self-application by the attorney or for reciprocal CLE credit in the following states: AZ, CT, FL, ME, MT, NJ, & ND.
This program is appropriate for newly admitted attorneys and experienced attorneys.
Using Generative AI in Your Organization: What In-House Counsel Need to Know
The use of generative AI is everywhere. The rapid emergence of tools like ChatGPT present companies of all sizes and types with challenging issues that should be considered.
Copyright may provide protection for AI-generated outputs, however, the Copyright Office has provided guidance indicating that works eligible for copyright protection must be a product of human creativity. This begs the question: what use rights do you have in AI-generated content? When is AI-generated content fair use?
Companies and their in-house counsel must carefully consider how they can leverage the use of AI tools while protecting the company's confidential and proprietary information.
Join us at 12pm ET / 9am PT on Tuesday, September 19, for the next edition of our Generative AI Deep Dives Series, as Nerissa Coyle McGinn of Loeb & Loeb will provide an overview of the legal risks of the use of Generative AI tools and the implications of those uses. Learn how to identify potential legal issues, develop strategies to mitigate risk, and gain insight into the latest developments in the legal landscape.
Discussion topics include:
How can AI tools be used while protecting confidential information?
What are the implications for IP ownership when AI tools are used?
What best practices can counsel employ to leverage the use of AI tools? and
Best practices for developing a generative AI use policy
Who Should Attend
This program is designed for in-house counsel interested in learning best practices and mitigating risks when advising their organization when using Generative AI.
There is NO COST to attend this LIVE program!
This program is FREE thanks to our gracious sponsor, Loeb & Loeb. If you can't make it to the live program, the recording will be available for viewing via our paid CLE library, In-House Connect On-Demand!